HempBlend T-Shirt Natural & Dyed

These awesome hemp T-shirts are the future of style and comfort. Naturally soft, warm, comfortable, casual, and resistant to ultraviolet light. Great for athletic wear because of hemp's natural resistance to odor caused by perspiration. Our hempStar Blend of 55% hemp 45% cotton jersey combines style with environmental awareness.


Sizes: M, L, XL, XXL Colors: Black & Natural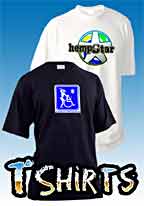 Hemp Earth's #1 natural renewable resource!
1 superior clean poduct
2 save's our environment
3 rebuilds the top soil
4 eco friendly on global weather systems



All orders are processed in 24 to 48 hours. Please alow 10 days for delivery
in the continental U.S. Popular gifts may take 2 to 4 weeks.
Our Full Refund Policy is Good for thirty (30) days after receipt of product.



...planting a seed, for a planet in need